Custom covering kit for YASHICA FX-103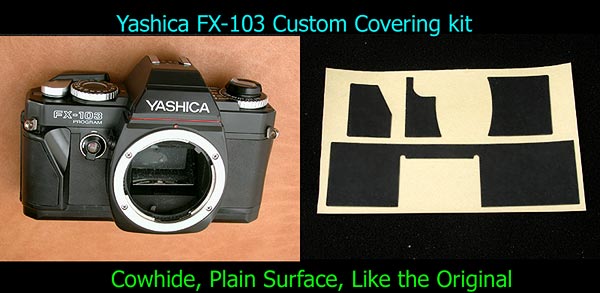 This is the custom kit for exchanging YASHICA FX-103.
Many of FX-103's original coverings are worn. you can reflesh the covering. You can give your FX-103 for the new life.

Self adhesive, when you apply to your camera, you do not need glue.



Please refer the installation guide here, or find the URL below.
file:///H:/aki-asahi.com/store/html/FX-D/replace/index.htm

Above one is Black kit (cowhide). Similar surface and touch with original FX-103's leatherette (but not completely the same).
More colors/material, please see our Material list.
(http://aki-asahi.com/store/html/material-list/ColorLeather_MaterialList_02_e.html)

The price is 14USD (1 kit)

No camera is included in this kit. The Price is per 1 kit.

This kit fits to only FX-103, does NOT fit to the other Yashica FX models.


Shipping Fee

Asia : $7.40 US (registered airmail)
Europe & Oceania : $8.40 US (registered airmail)
South America & Africa : $8.80 US (registered airmail)

Canada : $4.60 US (non-registered airmail)

We can not ship to US, Australia, Italy


YASHICA FX-103 Custom Covering
14 USD


[ Back ]