Leica X1 X2 Custom Leather kit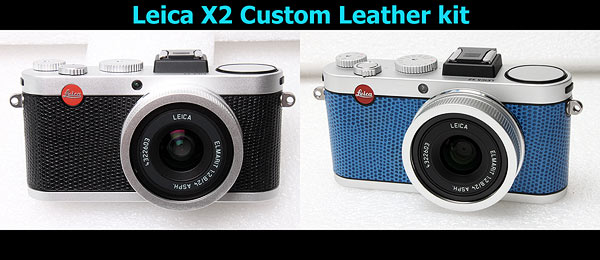 This kit fits to Leica X1, X2, it does not fit to any other cameras.
X1 and X2's covering shape is different, please choose the correct model.

! CONSIDER WARRANTY !
If you remove the original skin (change the skin), warranty will be VOID.
I strongly recommend you to change the skin after warranty period.


---



This kit includes frot 2 pcs and rear 2 pcs leatherettes, as above image.


---

<Sample photos>
Click the image to see larger sized photos.



#4040
Vynil + Fiber, Synthetic Leather



Black Lizard Emboss
(cowhide)



---


Blue Lizard Emboss
(cowhide)



Ocher Ostrich Emboss
(cowhide)



---


Red Lizard Emboss
(cowhide)


Please click here to see other color / material sample photos.
---
The price is $18 USD


Shipping Fee

Asia : $7.40 US (registered airmail)
Europe & Oceania : $8.40 US (registered airmail)
South America & Africa : $8.80 US (registered airmail)

Canada : $4.60 US (non-registered airmail)

We can not ship to US, Australia, Italy


Leica X1 X2 Custom Leather kit
$18 USD
---

Please see our guide video to remove the original skin.




Click Here to watch Youtube


---

Installation guide is not X2 but the process is almost the same.



Click Here to watch Youtube


---