Leica M2, M3 backdoor leatherette
Leica M4, M5 backdoor leatherette

This kit contain M2, M3 backdoor leathertte, 2 types.
One is for ASA200 backdoor, another one is for ASA1000 dial backdoor, includes 1pc each.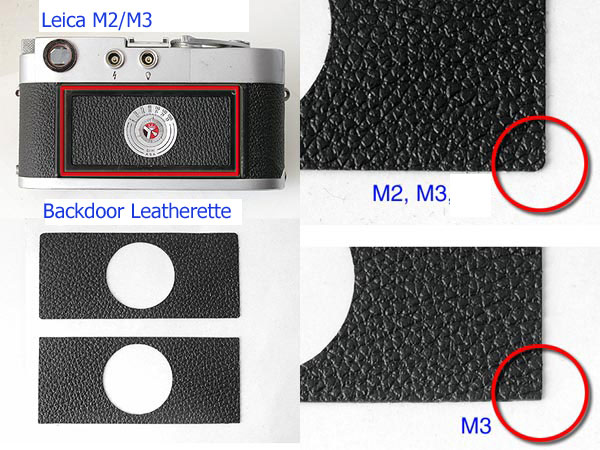 All of them are Self adhesive, when you apply to your camera, you do not need glue.
We recommend to use #4008 type leatherette, it is rather similar to the original. (but not close to the original texture)

The price is 7 USD (per 1 kit)

No camera is included in this kit. The Price is per 1 kit.


M4 and M5 backdoor leatherettes are the same shape.


Shipping Fee

Asia : $7.40 US (registered airmail)
Europe & Oceania : $8.40 US (registered airmail)
South America & Africa : $8.80 US (registered airmail)

Canada : $4.60 US (non-registered airmail)

We can not ship to US, Australia, Italy


Leica M2, M3 backdoor leatherette
$7 US


Leica M4, M5 backdoor leatherette
1pc backdoor leatherette.
$7 US



[ Back ]