Kiev-4 & FED-3/4/5 eyepiece patch Eye Piece Patch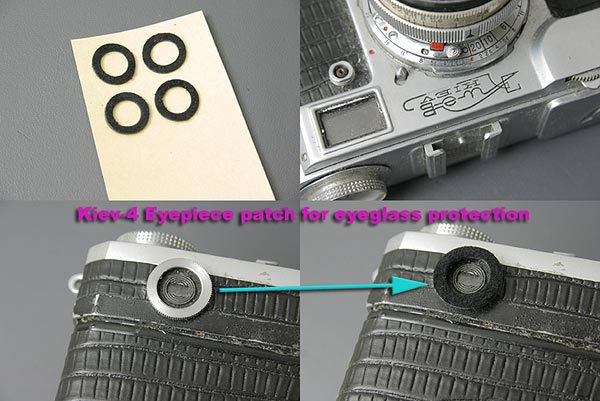 One of the best solution to get away from Eyeglasses scratches.


This patch covers Finder eyepiece for Kiev-4 & FED-3/4/5.
Kiev-4 and FED-3/4/5's finder eyepiece size are the same.

No More Scratches on your Eyeglasses.

The material is roohide, velour, black color. 0.8mm thickness.





Installation is amazingly easy,
Just remove the patch from the base paper, then apply on the Viewfinder Eyepiece.
Self Adhesive, you do not need any glue for installation.


---

This patches fit to Kiev-4 & FED-3/4/5 eyepiece patch, NOT fit to the other Cameras.

The adhesion is not strong, it will not hurt surface of your camera.

Less than 3 minutes installation,
No More scratches on your Eyeglasses.
Easy to remove when.


Shipping fee

Asia : $5.50 US (registered airmail)
Europe Oceania Middle East : $6.30 US (registered airmail)
USA : $6.30 US (registered airmail)
South America & Africa : $6.50 US (registered airmail)




Kiev-4 & FED-3/4/5 eyepiece patch
4 pcs: 4 USD
10 pcs: 6 USD